Full Mouth Reconstruction Overview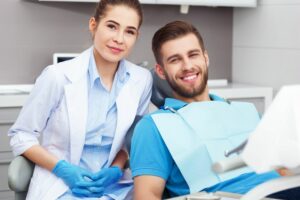 With regular checkups and cleanings, and proper at-home oral hygiene, your teeth should last you a lifetime. However, sometimes circumstances at one phase or another in a person's life can lead to neglect, which in turn can lead to tooth decay. Premature damage does not correct itself, and if left untreated, the patient can end up needing a full-mouth restoration. A full-mouth restoration is simply any combination of treatments that lead to a healthy, functional smile. To learn more about full mouth reconstruction treatment in the Crystal Lake and Cary area, contact the office of Dr. Christopher Pottorff.
What Might Lead to a Full Mouth Restoration?
Worn, decayed teeth or a dental condition that is causing persistent and premature damage could result in the need for a full-mouth restoration. The good news is that even complex tooth problems can be corrected. Furthermore, you can get your smile back along with your ability to bite and chew effectively.
The following issues could lead to the need for restorative dentistry:
Bad bite
Missing or worn teeth
Discolored teeth
Crooked teeth
Gum disease
TMJ disorder
Acid reflux
Teeth grinding
Advanced decay
If you have noticed any of these issues with, or changes to, your teeth, then we can help at Advanced Dental & Implant Care in Huntley, IL. In addition to practicing general and cosmetic dentistry, Dr. Christopher R. Pottorff is also well-versed in full mouth restoration.
Thanks to the advances in dental treatments and materials over the past few decades, we have several treatment options available. When it comes to restoring your teeth and giving you a beautiful, healthy smile, Dr. Pottorff will ensure you get the right dental treatment.
Not only can we restore your dental health, but we offer valuable information on how you can maintain it for the rest of your life. We will work with you considering your goals, the time frame in which you would like to have your full mouth restoration completed, and your budget.
Contact Our Huntley Dentist
If you have neglected your dental health, we can rejuvenate your mouth usually in just two or three visits. You will be able to bite and chew without discomfort, and you will have your smile back. If you would like to learn more, contact us at Advanced Dental & Implant Care in Huntley, IL. We can be reached by phone at 847-854-1200, or by using the form on our Contact Us page to request an appointment. We would welcome an opportunity to meet with you and discuss your treatment options.