Teeth Whitening Specialist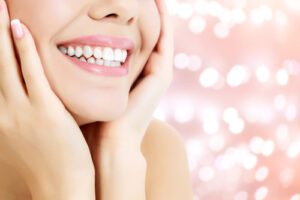 Even people with beautiful, healthy smiles sometimes turn to teeth whitening for a dazzling, bright look for a special occasion. Dr. Christopher Pottorff and his dedicated staff at Advanced Dental & Implant Care offer a quick and painless whitening method. Teeth whitening treatments will keep your smile beautiful and your teeth healthy.
Teeth Whitening Q&A
Will whitening damage my teeth?
Damage to teeth is a common misconception. Teeth whitening procedures will not damage the enamel or any other part of the tooth. Therefore, any sensitivity that's caused by a whitening treatment will generally go away within a couple of days after the procedure. Additionally, this fact remains valid for tooth bleaching. Dr. Pottorff will help you understand which process is best for you.
What about existing crowns and veneers?
Teeth whitening will not change the appearance of porcelain veneers, dental crowns, or other dental installations. However, if you have veneers or crowns that were dyed to match your natural shade, discuss with Dr. Pottorff about making sure your entire smile whiter. Additionally, some whitening methods can weaken the adhesive bond between veneers or crowns and your teeth.
Will whitening keep my teeth healthier?
Whiter teeth can brighten your smile and overall appearance. In turn, you will have more confidence and a happier outlook. Secondly, white and shiny teeth give the impression that you have excellent oral hygiene, and the effects can restore youthfulness to your persona.
Other whitening benefits of your teeth include:
Removing plaque and tartar
Killing bacteria that live in your mouth and causes gum disease
Preventing tooth decay
Reducing gum disease will lower your risks of bacterial pneumonia, stroke, and cardiovascular problems associated with gum disease
Is teeth whitening expensive?
Tooth whitening is an excellent cosmetic dentistry treatment that is relatively inexpensive. More so, it allows you to improve your appearance, confidence, and outlook drastically. Your appointment will be quick and painless and will renew your smile every year or so. More so, this is an affordable option that will brighten your smile.
If you are a patient in Algonquin, IL, call the office today or book an appointment online. Our team will be available for any further questions you may have about the whitening procedure.
For your convenience, we also service surrounding neighborhoods such as Huntley, South Elgin, Elgin, Barrington, West Dundee, Dundee, Lake in the Hills, Carpentersville, Gilberts, Hampshire, Woodstock, Crystal Lake, and Cary.
OUR MISSION STATEMENT
A Beautiful Practice For All Your Dental Needs
_________________________________
 "We believe providing our patients with a better experience is the best way to ensure they have healthy, attractive smiles that last a lifetime. We go above and beyond to make sure our patients are comfortable, even at the most basic level. We understand going to the dentist can be an uncomfortable experience but with our office, it doesn't have to be. So when you visit us you will see what sets our office apart from other dentists and implant specialists. From routine dental care to perfect natural looking implants and cosmetic dentistry, we promise you will be impressed. Schedule your visit today!"