All-on-4 Dental Implant Specialist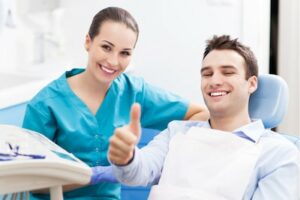 If you have lost adult teeth, you are in good company. About 120 million adults in the U.S. are missing at least one tooth, and about 36 million are missing all their teeth. With numbers like that, it's no wonder dental implants have become so popular in recent years. Dr. Pottorff will place the dental implants directly into your jaw bone. Dental implants are much more secure than dentures and bridges, and most people find they're a lot more comfortable, too. In fact, thanks to their unique design, implants look, feel, and "work" a lot like your natural teeth, and for years, they've been a popular alternative for men and women looking to replace one or just a few teeth.
However, for people missing all their teeth on the upper or lower arch, implants aren't always an ideal option. Completely replacing an upper or lower arch with implants requires extensive surgery. In many cases, there's not enough bone to support the implants. Plus, the cost of a dozen or more implants puts this particular approach beyond most people's budgets. Fortunately, the "all on 4" implant technique can help.
Get your smile back with All-on-4s
With all-on-4 dental implants, that's all changed. All-on-4 implants use four implants strategically placed in your jaw bone to secure a full denture. With all-on-4s, you get the benefits of implants — better security, greater comfort, and improved self-confidence — with the complete functionality of a full denture. Implant dentistry is a specialized area of dentistry, and not every dentist like Dr. Pottorff has the expertise to perform the implant surgery.
During the all-on-4 procedure, two implants are placed in the front of your jaw where bone density typically isn't an issue. The other two are placed farther back at a 45-degree angle, providing additional "grip" to ensure the implants are adequately supported. By placing the implants in the stronger parts of your jaw bone, we virtually eliminate the need for bone grafting. Plus, the technique is entirely customizable. As a skilled implantologist, Dr. Pottorff can determine whether the all-on-4 approach is ideal for you or if you might benefit from five or size implants to provide the best experience.
Once Dr. Pottorff places the implants, they'll be left to fuse with your jaw bone, a process that takes several weeks. Before you leave the office, we'll fit you with a temporary denture to wear during the healing process. The temporary denture will keep your smile looking its best until the healing is complete and Dr. Pottorff can fit you with your permanent denture.
All-on-4 implant dentures are an excellent cosmetic solution to missing teeth. They can also improve the way your teeth "work," whether you've lost your teeth due to injury, decay, or disease.

Top All-on-4 dentist in the greater Chicago area
Dr. Pottorff is an experienced implant specialist dedicated to using state-of-the-art techniques for optimal results in every patient. Plus, the practice accepts most major medical insurance plans as well as Medicare, making treatment much more affordable. Don't let missing teeth make you feel self-conscious or unattractive. Give us a call at (847) 854-1200 and schedule your implant consultation appointment today at Advanced Dental & Implant Care.
Read our blog to learn more about the advantages of dental implants and how to properly care for your implants.
We treat patients in the surrounding neighborhoods of Huntley, Carpentersville, Crystal Lake, Lake in the Hills, Barrington, West Dundee, East Dundee, McHenry, Woodstock, Pingree Grove, Prairie Grove, Cary, Elgin, South Elgin, and Island Lake.