Most Medical Insurances Cover Dental Work as a Result of Trauma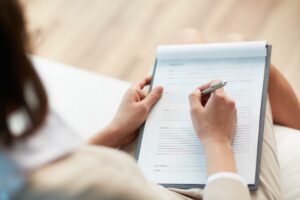 Sadly, for many individuals, medical insurance doesn't always cover necessary dental work that repairs teeth and keeps your mouth healthy for years to come. However, an injury is a different situation. Christopher R. Pottorff, DMD, of Advanced Dental & Implant Care in Algonquin, Illinois, treats patients who require dental work as a result of trauma, and in most cases, medical insurance covers these procedures.
Medically necessary dental work makes a difference
When Dr. Pottorff prescribes a dental treatment or procedure to restore your teeth or to help you maintain good oral health, rest assured that his recommendation is dentally necessary. But, in order to foot the bill, your insurance company typically recognizes only "medically necessary" procedures. So, when most insurance providers deem dental work as medically necessary to repair your teeth and mouth after a traumatic injury, they pay for services.
The definition of a medically necessary dental procedure may vary somewhat from one insurance company to another, but typically, the need for medical dental care includes:
Non-biting accidents, such as a knocked out tooth
Certain diseases that affect your oral health
Tooth extractions as a result of disease
Dr. Pottorff is an expert at assessing your condition so he can prescribe the most effective medical and dental treatments.
What types of dental care does medical insurance cover?
Medical dental care typically includes diagnostic procedures after trauma to determine the cause or location of your pain. Digital X-rays and other medical imaging are an essential part of your treatment plan after trauma, so Dr. Pottorff can accurately identify the problem and the type of procedure you need to correct it. Sometimes after a traumatic dental injury, as in a knocked out tooth, there are no apparent signs of injury to the surrounding teeth except those that are visible on an X-ray.
Medically necessary dental work includes nonsurgical and surgical procedures, too. When the dental work is directly linked to a traumatic event or illness, it is considered to be medically necessary treatment for your overall health and well-being, and insurers recognize this. For example, a dental emergency may require immediate treatment for inflammation or infections in your teeth or mouth, or a root canal to save an injured tooth.
Dental work after trauma
After a traumatic dental injury, you most likely need dental care to restore your mouth to its original, pre-injury condition. In these situations, most medical insurance providers cover all dental procedures and treatments that restore the original appearance and function of your teeth. This includes:
Any type of restorative care
Surgery
Dental implants
Root canals
Bone grafting
Dental procedures that save natural teeth
Crowns
Whether you suffer knocked out teeth as a result of a car accident, sports-related injury, or another traumatic event, dental implants, crowns, bridges, and other dental work restore your smile back to optimal health both functionally and aesthetically.
Common dental injuries include:
Chipped or fractured teeth
Dislodged teeth
Knocked-out teeth
Root fractures
Dr. Pottorff makes every effort to save your natural teeth by repairing or reattaching broken pieces, or by replacing a missing piece of tooth with a tooth-colored filling. He may also recommend a crown to put over the broken tooth so it matches the surrounding uninjured teeth.
If you dislodge a tooth, Dr. Pottorff can often reposition it back to its correct location in the socket. This sometimes requires a root canal as well. If the tooth is not saveable, Dr. Pottorff is an expert in placing dental implants.
Act fast after a traumatic dental injury!
Time is of the essence after a traumatic dental injury, especially if you've had a tooth knocked out. If you can receive treatment within 30 minutes of the injury, Dr. Pottorff may be able to save your tooth. He also examines you for any other facial and dental injuries so he can recommend the best course of action.
Ideally, after any traumatic dental injury, the sooner you seek treatment, the more options you may have for saving and restoring natural teeth. Dr. Pottorff and his highly skilled team work with you and your insurance company to bill all treatments that are medically necessary to revive your smile.
If you or a family member suffer an accident and your teeth are injured, don't hesitate to contact Advanced Dental & Implant Care. If the injuries are severe and require immediate medical care, go to the nearest emergency room. Otherwise, call for an appointment as soon as possible.
OUR MISSION STATEMENT
A Beautiful Practice For All Your Dental Needs
_________________________________
 "We believe providing our patients with a better experience is the best way to ensure they have healthy, attractive smiles that last a lifetime. We go above and beyond to make sure our patients are comfortable, even at the most basic level. We understand going to the dentist can be an uncomfortable experience but with our office, it doesn't have to be. So when you visit us you will see what sets our office apart from other dentists and implant specialists. From routine dental care to perfect natural looking implants and cosmetic dentistry, we promise you will be impressed. Schedule your visit today!"